Once upon the "before times" of the COVID19 pandemic, the Illinois GOP finally and shockingly stood up for what's right when Holocaust-denier & Nazi Art Jones hopped on the ballot for Congressman Dan Lipinski's seat for the second time in recent years:
"GOP leaders are endorsing Mike Fricilone and are launching a campaign against his challenger, Neo-Nazi Art Jones.

"Illinois' 3rd District covers parts of Cook County. Both Republicans are trying to unseat Democrat Dan Lipinski, who has represented that district since 2005.

"Thursday's message from Illinois Republicans: don't vote for the neo-Nazi on your primary ballot.

'"Arthur Jones is a neo-Nazi, an anti-Semite, and Holocaust denier. He is not a Republican. He has no place in a civil society,' said Illinois GOP Chairman Tim Schneider," from ABC7 press coverage.
The ILGOP Facebook page paid for and ran ads, and even created a web page encouraging voters to vote against Art, who was on the Republican ticket. Thanks to the exposure, Art did not win the Congressional seat.
We applaud the GOP's actions and ask them to expand their gaze up inward and up north to the 43rd Ward and its committeepeople. For those who don't know, a ward committeeperson is an unpaid, political-party leadership position who voters elect. Committeeperson is the exact pathway that Speaker of the IL Statehouse Mike Madigan walked upon to begin his journey in politics a thousand years ago. And look at him now!
As we originally reported in March, on Panic! in the Discord!, Jason David Finney was on the ballot for an uncontested seat for the 43rd Ward Committeeperson and was been revealed to be a dues-paying member of white nationalist group Identity Evropa, now rebranded as American Identity Movement.
Since then, Jason has won the 43rd Ward Committeeperson seat and the GOP has yet another public nazi in their ranks.
Who is Identity Evropa/American Identity Movement?
Established in 2016, Identity Evropa, an American Neo-Nazi organization, is most infamous for its involvement in the deadly Unite the Right rally in Charlottesville, where antifascist Heather Heyer was killed by James Alex Fields Jr. Identity Evropa's founder and former leader, Nathan Damigo, is well-known for assaulting both a femme antifascist protester as well as an Arab cab driver in an armed robbery, where he pulled a loaded gun in the face of an innocent man for "looking Iraqi." Former IE members include the attempted Amtrak hijacker Taylor Wilson, and the fascist Nolan Brewer that set a synagogue outbuilding on fire in Carmel, Indiana. After March 2019, when independent journalist group Unicorn Riot leaked their internal communications revealing their white nationalist agenda and goals, Identity Evropa scrambled to re-brand as the American Identity Movement. The new group stayed the same, aside from the name change. They maintained the same members, the creepy CEO, the dues structure, and of course, the national communication structure. To explore Unicorn Riot's extensive reporting and publishing of Identity Evropa/American Identity Movement's "Nice Respectable People" internal communications server, see the collected works on their website. It is from those articles and internal communiques that we will be posting information about Jason and others. Further, Identity Evropa/American Identity Movement is classified as a white supremacist organization by the Anti-Defamation League and is designated as a hate group by the Southern Poverty Law Center. American Identity Movement is abbreviated as "AmIM" to avoid any confusion with and unintentional disrespect to the original AIM, the American Indian Movement.
In Identity Evropa/American Identity Movement's internal communications, members were encouraged to use monikers other than their real names to obscure their identities. Even IE/AmIM CEO went by "Reinhard Wolff" for a time, as reported by the SPLC in their Hatewatch series about how post-Charlottesville Unite the Right rally, Identity Evropa sought to swap 'alt-right' with 'identitarianism:'
Patrick aka Reinhard announces his acceptance of the Identity Evropa (AmIM) CEO position in the internal communications of the national white supremacist organization:
Before Patrick accepted the CEO position, he encouraged members to run for public office, even explaining how to hide white nationalist views in plain sight by positioning themselves as Trump supporters.
After Patrick became CEO, he continued to remind and suggest that his fellow white nationalists pursue public office, including following his example:
Messages that Jason David Finney took to heart.
Jason David Finney and his involvement in Identity Evropa/American Identity Movement in Chicago
As first explored in our March article, published on Panic! in the Discord's website, IE/AmIM dues-paying member "Balbo" appears on Identity Evropa's "Nice Respectable People Server" and going by his middle name on IE's Slack as user "David Yates." All of American Identity Movement's Slack channels were leaked in March of 2019 by Unicorn Riot, and we have been able to identify Balbo as none other than as white nationalist Jason David Finney, a Credit Analyst at R.J. O'Brien and 43rd Ward Republican Committeeperson.
Perhaps as a means to protect his political ambitions, Jason was not a chatty member online. In fact, as Balbo, Jason posted only 20 messages in Identity Evropa's discord servers and was tagged in only a handful posts. One of his tags included this one of him and others pasting white supremacist recruitment propaganda around the Mt. Greenwood neighborhood. (Editor's note: the link above is a collection of pictures from their efforts that day. They flyered multiple locations)
The Identity Evropa/AmIM posters do more than just vandalize communities. They serve as recruitment tools for the white nationalist movement, as explained by the ADL and NPR in their article "White Nationalist Groups Increase Recruiting And Propaganda Across The West." Which makes their targting of the conservative neighborhood an intentional attempt to increase their membership and also to frighten any people of color. From the NPR article:
Further, the ADL provides a helpful guide to their pro-white identitarian material, which features:
a book by Jared Taylor, a known white supremacist and the editor of AmRen, an e-magazine and think tank dedicated to white nationalism and has featured the writings of Alt Right pseudo-intellectuals, so-called race scientists, and he has hired white power movement figureheads to serve on his staff
several books by Guillaume Faye, where he positions Islam as the nemesis of the Western world, calls on whites to unite against the colonization of Europe by non-whites, and calling for all-out civil war against immigrants and refugees
the above white nationalist books are published by Arktos Media, a Europe-based publishing house with close ties to Identity Evropa/AmIM, Richard Spencer's Alt Right website, Faye, Taylor, and other white nationalist writers.
The incident on the 290 overpass is a true turning point for Jason. The ill-fated February 2018 Chicago Identity Evropa chapter holding up an anti-immigration banner on the overpass over the Eisenhower freeway was discussed in the white nationalist group's internal communication channel, "Media about IE" channel:
What exactly are they talking about? Let's dig in! First, they link to an archived news article: https://archive.fo/0iJxS
which resolves to that archived page of local news coverage:
The original CBS news coverage, "Neo-Nazis Take Down Sign in Oak Park," has video embedded. When IE members Logan (later known as Green Nation) identified as Logan Piercy, Phillip Wiglesworth (using his own name), Reinhard Wolff aka Patrick Casey and as yet unnamed Sam Southern talk about the situation, sharing links to videos of the news coverage:
After Steven, we were finally able to identity the person in the Russian hat as Brendan S. aka "AltRightMick" aka "Chidentitarian on Twitter," the IE/AmIM Midwest Coordinator. Brendan's history with the white nationalist movement is long and sweeping. Once his views were brought to the attention of his employer, he was terminated:
To recap, so far we've authenticated that Jason as Balbo hangs up white nationalist flyers and banners along with doing garbage pick-up duty with his fellow IE/AmIM members, including AltRightMick aka Brendan S. Comparing the pictures of Balbo doing white supremacist activism to the picture of Jason Finney. We have a match!
Jason grew up in Lake Orion, Michigan, a son of Cliff and Janey Finney. He attended Rochester Adams High School from 2005 to 2009 and was a renowned wrestler on his school's team:
True to his word, Jason attended University of Michigan in Ann Arbor from 2009 to 2013, where he majored in German Language & Culture and Business Economics. He worked as a Law Librarian and was a member of the Pi Kappa Alpha fraternity. He earned his MBA in Finance at UIC from 2016 to 2018.
Jason has hidden his political leanings from his parents, who remain in Lake Orion.
They are aware of his dreams to become a respected politician
In addition to his political office, Jason currently works as a credit analyst at RJ O'Brien alongside Dina Karahalios, John Coleman, Sunny Simeone, Eric Larkin, Mary Sue Koch, Jim Morrissey, and Alexis Waddell according to his LinkedIn, which we archived.
Jason ran unopposed for the 43rd Ward Republican Committeeperson position and given that there was no competition, he won it. Friendly reminder that a ward committeeperson is an unpaid, political-party leadership position who voters elect. Looking at the 43rd Ward Republicans Facebook page, which we archived, we notice something (aside from the 6 'likes' that they have):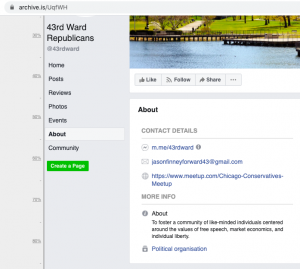 What is that meetup group? It's the Chicago Conservatives Meetup page, which we have archived. The Meetup group had its own secret Facebook group called Chicago Conservatives, which we were able to obtain screenshots from before Jason deleted it in an attempt to protect his political ambitions. In it, Jason, whose Facebook page looks as such and we also have it archived,
was admin for the group. Do note how the profile pictures are the same:
and the circumstances are a match too:
Before filing his paperwork for 43rd Ward Committeeperson, Jason posted vitriolic racist, anti-feminism, anti-Muslim, anti-immigration rhetoric, including comparing migration to rape in pictures and comments, when he thought he was among like-minded people:
The "little home in Lincoln Park" he mentions on his 43rd Ward page was originally a home he shared one block away.
A home that was confirmed to be shared by the same Brendan S aka AltRightMick aka Chidentitarian, Midwest coordinator for the white nationalist group:
Jason moved out from the condo he shared with Brendan in early October 2019 and filed his Cook County election paperwork to arrive at his new address 2629 N Hampden Ct, Chicago, one block from his old home. Being that Jason is an elected official, his home address is public information.
Since researchers across the country have outed the majority of Identity Evropa/American Identity Movement members to their friends, families, and places of employment, the group has struggled to recruit and grow. CEO Patrick Casey and his skeleton crew still post online articles, this one about Nationalism, Not Globalism (the dogwhistle for the conspiracy theory that Jews run the world), where some key points include a shout-out to "elected officials," a description of the GOP as "controlled opposition" and the solution to bad governance as "nationalism."
We have archived and screenshotted the AmIM article as to avoid giving them any click revenue or IP information:
This is who Jason David Finney is: a person who is controlled by nationalist interests working on their behalf within the Republican office in the 43rd Ward:
Further, it is unknown if Jason attended the April 2019 rally at the Daley Center. Per the Chicago Sun-Times, the rally was organized by AmIM, "hardcore" white nationalist group American Guard, violent far-right neo-fascist group Proud Boys, and the Chicago chapter of the Fraternal Order of Police (FOP). The rally lambasted Kim Foxx for her handling of the Jussie Smollett case. The article is archived in case of paywall complications.
Thanks to the efforts of the ILGOP, Art was not elected to Congress either time he ran
Second, let's hold IL GOP accountable. When Chairman Sean Morrison pays money to tell voters to say "No to the Nazi," that rhetoric doesn't stop with Art Jones. That includes Jason Finney.
Third, let Jason's bosses at RJ OBrien know that their employee is a dues-paying white nationalist group member: