Background: What is Patriot Front?
American fascist hate group Patriot Front was founded in the aftermath of 2017's deadly "Unite the Right" rally in Charlottesville, Virginia. James Alex Fields, the Nazi who drove his car into the crowd, killed Heather Heyer and injured dozens of others, marched at the rally with Thomas Rousseau of Vanguard America. Soon after, Rousseau formed Patriot Front as a splinter group of Vanguard America. The then-teenage founder, Thomas Rousseau, seized membership and assets of Vanguard America and rebranded his group as Patriot Front.
While the organization uses red, white, and blue patriotic imagery, Patriot Front is unambiguously white nationalist, stating that "Nationhood cannot be bestowed upon those who are not of the founding [white] stock of our people." The organization is also fascist, an early text was titled "American Fascist Manifesto", and involves Neo-Nazis within its ranks. Since 2017, Patriot Front has also held "flash mob" events, where they are easily spotted in their uniform of khaki pants, polo shirts, ball caps, and white gaiter masks, and carrying American flags, smoke bombs or other props. At these events, their uniformed members will unload from the back of a rented U-Haul or Penske box truck, then briefly march along their planned route through the city, usually at night when there are few bystanders. The purpose of these marches is to generate footage for a few minutes of flashy recruitment videos for their social media channels. As well as holding flash rallies featuring masked participants, Patriot Front regularly spreads propaganda in the form of stickers, banners, and stencil graffiti. Patriot Front goal is often intimidation, for example when it targets synagogues with propaganda for the racist group. Following 2020's mass anti-racist protests and uprisings, Patriot Front has increasingly targeted Black Lives Matter and racial justice murals for defacement. Patriot Front does this both to threaten its perceived enemies and to build notoriety for the organization. Today, Patriot Front is one of the most active distributors of racist and antisemitic propaganda in the country, both online and via fliers, stickers, and banners. According to their own manifesto, the group does not allow women to join and is actively working to create a whites-only ethnostate.
On January 21 2022, as Patriot Front was attempting to march at the anti-abortion protest in DC, independent media outlet Unicorn Riot released 500GB of Patriot Front's unaltered internal communications. The leaks include "private, unedited videos and direct messages reveal a campaign to organize acts of racial hatred while indoctrinating teenagers into national socialism (Nazism)."
The full Patriot Front communications, photos and videos are hosted on Unicorn Riot's website. The January 2022 leaks of Patriot Front's inner workings, white supremacist rhetoric, connections to the US military, and attempts to infiltrate mainstream conservative movements have been published widely in national media outlets [1,2,3,4,5]:
White Nationalist Activities of Brandon Danaher, Patriot Front Member "Patrick – MO"
Brandon Michael Danaher was born on September 27, 1989. We'll explore his descent into white nationalism shortly. First, do note that once members are granted access to the Patriot Front internal communications server, they chose a false name for themselves. That name corresponds with the state they live and their title, if applicable. In Patriot Front servers, Brandon Michael Danaher was known as Patrick, from Missouri.
Patriot Front member "Patrick-MO (@PF-5788)"  traveled from Blue Springs, Missouri in the Kansas City, Missouri area, and attended the December 4, 2021 Patriot Front training camp and march in Washington DC [1], as proven by his conversation with Thomas Rousseau afterwards.
In Brandon's preparation for the weekend-long event, he private messaged fellow fascist "Mark – MO" his home address for transportation support. IPatrick tells us that he lives near Blue Springs, MO [2]. So much for OpSec!
Speaking of the Patriot Front march, rumors say antifascists won the day by disabling the fascists' transport vehicles, leaving them stranded for hours in the cold.
Brandon and another hate group member Sean-KS [3] vandalized public spaces with white nationalist promotional materials on after Thanksgiving, in Brandon's town. Their handiwork was posted on the hate group's public social media after the failed DC training camp and march, in a feeble attempt to boost morale.
Further, Brandon was one of the banner drop team members for the "Revolution is Tradition" banner drop in mid-December in Kansas City, with Mark MO as well as fellow Patriot Front local members Zach and Sean [5]. All the videos and images from the banner drop can be found in the Unicorn Riot vault. In the chats, do note that Brandon is taking direction from Luke Paule aka Carter MO (as exposed by Unicorn Riot) plus Zach is slated to participate in the pro-fascist banner drop.
To aid identification, researchers have created an image gallery of Patriot Front members whose usernames have been connected to their faces. If you recognize someone, reach out to PatriotFail@protonmail.com
Following disastrous outcomes at the March for Life rallies in Chicago and DC in January 2022, Unicorn Riot leaked all of Patriot Front's internal communications.  As Patriot Front started to tear itself apart to hunt for infiltrators in January, Brandon began snitching on the controversial opinions of another Patriot Front member who made his opinions known at a campfire [6] to the hate group's commander, Thomas. Remember that Sean KS is Brandon's sticker and banner buddy:
The "Tarrant actions in New Zealand" references the massacre at Christchurch Mosques, where white supremacist Brendon Tarrant targeted Muslims attending services. He murdered 51 people, left a manifesto and has been lionized by white nationalists internationally. Most recently, Peyton Genderon, who was radicalized on the same internet hate forums frequented by Patriot Front members and wrote a manifesto lifted from Tarrant, murdered 10 people and injured three more in at a Buffalo, NY grocery store in a predominantly-African American neighborhood. He believes in the white nationalist Great Replacement theory, as do Patriot Front members.
Brandon also goes on to identify other organizations "Sean-KS" was a part of in the past [7]:
The vitriol between hate group members is mutual, as Mark MO and Zach MO (pictured above) speak negatively of Brandon aka Patrick MO freeloading in their private direct messages.
Trace & Confirmation
As mentioned earlier, Brandon sent his address in a direct message [8].
From there, it wasn't difficult to use public records to find that the Danaher family resided there. The house is owned by his dad Frank, who we bet would not be pleased to learn that his son is a hate group member.
Doing some more sleuthing, we were able to verify that Brandon is the only family member with a record of explicitly fascist social media postings, including records of his Gab account (@bdanaher17) which has since been removed but it remains tagged on far-right Gab pages[9, 10] like English Defence League which is a far-right, Islamophobic organization in the United Kingdom
Gab is a far-right owned social media network famous for being hacked by online hacktivists in 2021, who released a treasure trove of data about its Neo-Nazi user base.
You can read more about that hack and its fallout here.
Looking deeper, we find Brandon's Flickr page which shows a sad, but common, cycle of a fanatical Bernie Sanders supporter who, since the 2016 election, turned into Trump supporter and then an avowed fascist [11,12]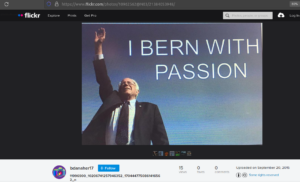 Perusing through his Flickr account, we see that he wasn't always a fascist, but started off somewhat normal and embraced Bernie Sanders[13]. Later on, however,  his hatred, especially misogyny, seeps through. For example, he posts several photos of woman allegedly "crying rape" suggesting that woman use rape to gain advantages they otherwise wouldn't have access to[14, 15]. These belief systems are not uncommon in far-right circles after GamerGate, especially in male supremacist groups like Patriot Front, which exclude women from their membership altogether. These arguments, of course, are filled with logical fallacies and rooted in misogyny and white supremacy.  We are only posting a few of Brandon's misogynistic posts, but his hatred of women is shocking – even for a fascist.
Misogyny is far from his only avenue of hatred. He later posts photos of Trump, showing his support for the former fascist-in-chief by posting of himself donning the same hat [16, 17].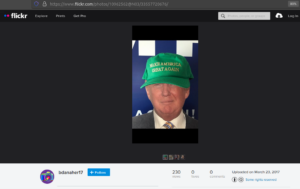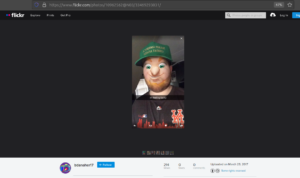 He also posts anti-immigrant sentiment, Pepe memes, traditionalist art (popular among the far-right), and dogwhistles for the maintenance of the white nuclear family. The art of Andrew Loomis is featured as he is an illustrator known for drawing racist caricatures of other races [17, 18, 19, 20]. Fascists love Loomis's artwork because it depicts a nuclear white family, central to white supremacy. Without the subjugation of women to men through male supremacy, fascism and its ideals are impossible to achieve- read more about fascism and its impact on women in Italy here.
On Brandon's Flickr page, it is evident that he has at some point gone through a divorce, which may be the reason for his radicalization- or his radicalization might have caused the divorce. Hard to tell. He stops posting images of his significant other, and starts posting crude misogynistic memes on there and ones mentioning divorce as well[21].
Further, he posts lots of photos of himself, his ex, and presumably his children on there, giving us a face to "Patrick – MO" of Patriot Front [21,22,23] in addition to his home address. Brandon's images and more have all also been archived here, so even if he deletes the account, the internet is forever.
And finally, in the Patriot Front server, Brandon mentions that he recently got a job at the Union Pacific Railroad [24]:
Further digging revealed Brandon's employer to be ITS Technologies & Logistics, a company that loads trains and other intermodal-related tasks at the Union Pacific rail yard in Kansas City, MO. ITS ConGlobal ("ITSC") is North America's largest operator of railroad-owned intermodal terminals and container depot facilities, so Brandon literally has his hands-on sensitive equipment, connections, and inter-country transportation modes. We have seen white nationalist group members attack infrastructure before: attempting to derail an Amtrak train, advocating for destroying trains and poisoning a water supply, and plans to destroy power grids so make no mistake when we say Brandon Michael Danaher, of Blue Springs, Missouri, and known white nationalist, is an explicit threat to the safety of the KC metro area.
To recap, Brandon Michael Danaher is a member of American fascist organization Patriot Front, a raging misogynist, a snitch on his "brothers" in the movement as well as a neo-nazi propagandist who lives with his father Frank in Blue Springs, MO, and works at ITSC at the Union Pacific yard in Kansas City, MO.
Call to Action
We encourage all to contact the public affairs representative for the Union Pacific Missouri area and let them know that Brandon Danaher is a confirmed hate group member on their payroll working with logistics and heavy transportation.
Then call ITSC Headquarters at 708-225-2400 and ask for Jason Simonson, head of Transportation Department. Feel free to send him this article and outline your concerns about a violent neo-nazi working at the trainyard: jsimonson@cgini.com
Due to the publishing requirements of this platform, we cannot directly share personal information like Brandon Danaher's contact information and his parents' home address that he posted in DM to another member. Here it is, one more time:
However, our link to other redacted information about Brandon can be found here! We're asking local community members to be aware of Brandon and let others know accordingly. We keep us safe!
Other things folks can do is to explore the website where Patriot Front members are identified across the country then circulate the info to your communities and networks. Further, check out the gallery of as-yet-unidentified members of Patriot Front and if anyone is familiar, reach out with any info. We are in the process of identifying every last fascist.