Special thanks to Utah161 for their assistance with this piece.

Background: What is Patriot Front?

Patriot Front was founded in the aftermath of 2017's deadly "Unite the Right" rally in Charlottesville, Virginia. James Alex Fields, the Nazi who drove his car into the crowd, killed Heather Heyer and injured dozens of others, marched at the rally with Thomas Rousseau of Vanguard America. Soon after, Rousseau formed Patriot Front as a splinter group of Vanguard America. The then-teenage founder, Thomas Rousseau, seized membership and assets of Vanguard America and rebranded his group as Patriot Front.
While the organization uses red, white, and blue patriotic imagery, Patriot Front is unambiguously white nationalist, stating that "Nationhood cannot be bestowed upon those who are not of the founding [white] stock of our people." The organization is also fascist, an early text was titled "American Fascist Manifesto", and involves Neo-Nazis within its ranks. Since 2017, Patriot Front has also held "flash mob" events, where they are easily spotted in their "uniform" of khaki pants, polo shirts, ball caps, and white gaiter masks, while carrying American flags, smoke bombs or other props. At these events, their uniformed members will unload from the back of a rented U-Haul or Penske box truck, then briefly march along their planned route through the city, usually at night when there are few bystanders. The purpose of these marches is to generate footage for a few minutes of flashy recruitment videos for their social media channels. As well as holding flash rallies featuring masked participants, Patriot Front regularly spreads propaganda in the form of stickers, banners, and stencil graffiti. Patriot Front's goal is often intimidation–for example, when it targets synagogues with propaganda for the racist group. Following 2020's mass anti-racist protests and uprisings, Patriot Front has increasingly targeted Black Lives Matter and racial justice murals for defacement. Patriot Front does this both to threaten its perceived enemies and to build notoriety for the organization. Today, Patriot Front is one of the most active distributors of racist and antisemitic propaganda in the country, both online and via fliers, stickers, and banners. According to their own manifesto, the group does not allow women to join and is actively working to create a whites-only ethnostate.
On January 21 2022, as Patriot Front was attempting to march at the anti-abortion protest in DC, independent media outlet Unicorn Riot released 500GB of Patriot Front's unaltered internal communications. The leaks include "private, unedited videos and direct messages reveal a campaign to organize acts of racial hatred while indoctrinating teenagers into national socialism (Nazism)."
The full Patriot Front communications, photos, and videos are hosted on Unicorn Riot's website. The January 2022 leaks of Patriot Front's inner workings, white supremacist rhetoric, connections to the US military, and attempts to infiltrate mainstream conservative movements have been published widely in national media outlets [1, 2, 3, 4, 5].
Activities of Patriot Front Member "Mark – MO" aka Ian Fletcher
First, do note that once members are granted access to the Patriot Front internal communications server, they choose a false name for themselves. That name corresponds with the state they live and their title, if applicable. In Patriot Front servers, Ian Fletcher was known as Mark – MO (@PF-731400).
Further, the different areas where Patriot Front is active are referred to as networks. Ian is a member of Network 13, abbreviated as NW13. Ian used Patriot Front stencils and spray paint to promote Neo-Nazi Patriot Front iconography in and around Kansas City, MO. He shares the types of paint he uses for vandalizing murals and spray-painting white nationalist imagery [6]:
In fact, in the Unicorn Riot Vault, we find an image of Ian Fletcher aka "Mark – MO" with graffiti that he and several others (including Logan Plank aka "Clarke IL" and Nathaniel Leavitt aka "Clarke MO") put up in Kansas City, MO. He also appears in several of the videos in the vault putting up Patriot Front Graffiti.
Ian Fletcher aka Mark MO also admits to putting up white nationalist recruiting stickers in Kansas City, MO/KS in October of 2021 [7].
Thanks to Billy Merse's attendance tracker spreadsheet, created presumably at Thomas's request, we see that Mark – MO attended nearly every Patriot Front meeting with evidence of putting up graffiti, dropping banners, or otherwise vandalizing public space with white supremacist propaganda:
Mark – MO also regularly participated in Patriot Front's regimented exercise routine [8]. Further, he helped several other network members figure out logistics for attending the National Mall march in December 2021 in Washington, DC [9, 10].
He also acted as one of only a few medics for Patriot Front during their march at the National Mall [11]. He helped make sure other members had their gear in order [12]. Mark – MO was critical in Missouri members planning and showing up for the Neo-Nazi march in Washington DC. We were able to spot him wearing a white vest, which was standard for the medics during the December 4th march [14]. The Patriot Front march was reported in major mainstream media outlets [30, 31, 32].
Further, we compare identical pieces of clothing to different incidents of stochastic terror. Below, the left is from the hate graffiti in Kansas City and the other from the Patriot Front DC March preparation at their training camp.
And finally, we finalize the identification with a comparison of shoes. From the Kansas City graffit video (top) to the Dec 4 Patriot Front training camp, folks we have a match!
Ian Fletcher also posts photos of two Patriot Front members in front of the destroyed "Hate Bus"(the name of which he claims to have suggested), which anonymous antifascists took down before Patriot Front's march on December 4th [13].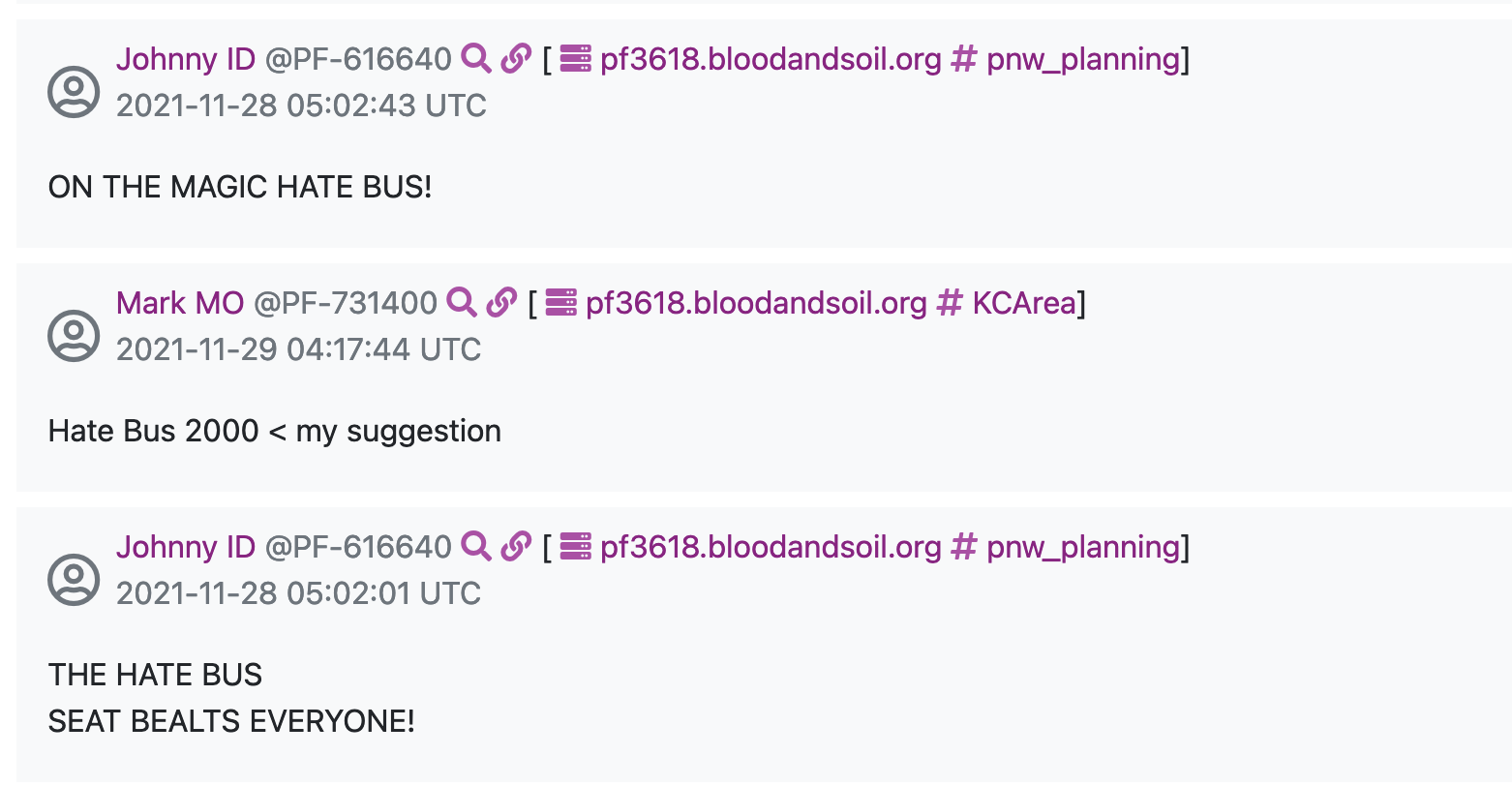 Mark – MO also participated in banner drops after the December 4th event to intimidate people and let them know "we are everywhere" [15]. Finally, he also worked as an interviewer, to vet those coming into the organization and grow the Neo-Nazi organization [156].
It is clear that Mark – MO's involvement in Patriot Front was more than just auxiliary – he was right there putting up propaganda, helping others put up graffiti, doing banner drops, acting as one of few medics, and as a recruiter/interviewer. He was also the photographer during a banner drop on 12/11 in Blue Springs, MO [17].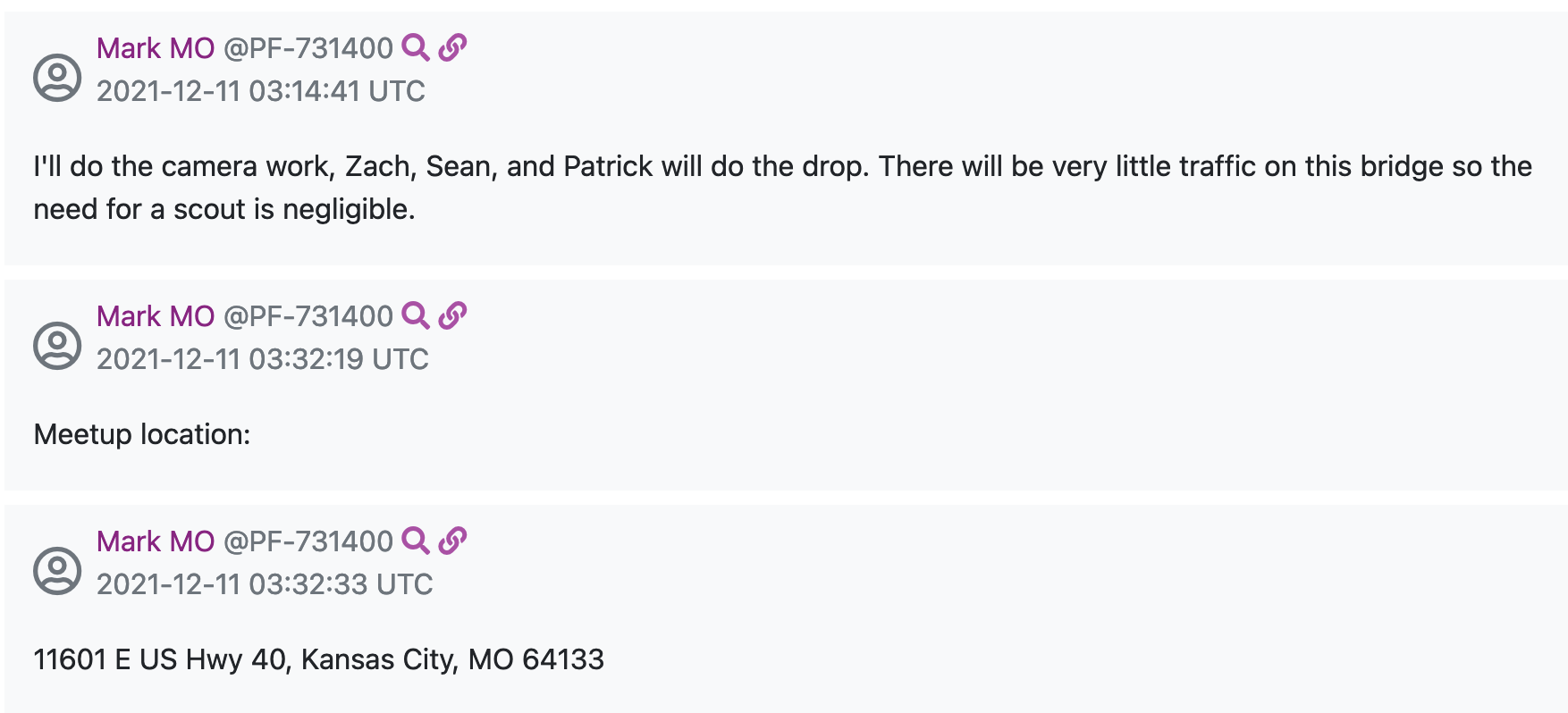 Trace & Confirmation
Zach – MO, another Patriot Front member, posted Mark – MO's Cash App handle "$totherspore" [18].
Ian Fletcher, as Mark – MO, confirms this is his Cash App handle in another message to Zach – MO [19].
Ian Fletcher also confirms that he is on the Kansas City side of Missouri [20] and that he lives in his camper [21].
Elsewhere online, Ian reused the "totherspore" username which led to his Reddit account [22, 23]. His Reddit activity includes posts about being in Missouri, saying that those who hate Missouri are Democrats, posts his shitty duct tape holster, and that he passed his fluids class because of Chegg, which suggests he is or was working towards an engineering degree.
This aligns with information from Ian Fletcher's LinkedIn profile, which states that he is self-employed. Ian also lists attendance at Missouri Western State University, studying Manufacturing Engineering Technology. At this time it is unclear if he finished his degree. He is not listed in the university's commencement announcements for years 2019-2022.
Also listed on Ian Fletcher's LinkedIn profile is his high school. He graduated from Northland Christian High School, Kansas City, Missouri, in May 2016 [24 & 25].
Going back to his very first post on Reddit, over five years ago, we find he shared a video of an interview with one of his high school teachers calling him a "Nazi" [26 & 27]. He tried to inspire the /r/TwoXChromosomes subreddit to go after his teacher. In case Ian removes the video from his Totherspore Reddit account, it's been archived [28].
The teacher that is interviewed in this video is a Nazi. I need help lighting the comments a flame with the truth of his oppression. Give me comments or give me death! from TwoXChromosomes
Funnily enough, his attacks on Mr. McKee ultimately led to his identification five years later. Clicking on the video, we see only one comment where a fellow student outs his real name as Ian, even though he changed the name on his YouTube to "John."
We notice that Ian/"John" Fletcher on YouTube and Totherspore on Reddit use the same messaging, "give me [comments/liberty] or give me death," in response to something pertaining to Mr. McKee's bearded dragon, Rajah.
Although as of this writing "John" Fletcher's YouTube is still online, we've archived the videos in case he deletes.
Meanwhile, sounds like the medic situation in Network 13 is pretty dicey. After recommending his buddies load up on a particular MRE with the explicit goal to avoid pooping for a couple days [29], we might agree with Ian's own assessment of his confidence as a medic.

Due to the posting requirements of this hosting platform, redacted information about Ian can be found here. We are aware that he has recently moved. Any information about his current place of employment or residence would be greatly appreciated and this article will be updated accordingly.