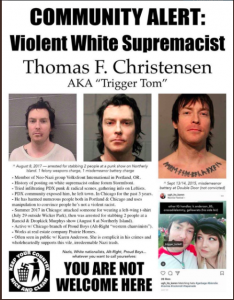 Article reposted from Idavox:
Another Proud Boy bites the dust. Of all the Nazis that for some reason keep going to Dropkick Murphys shows, despite how much the band hates Nazis, this one has a history that just cost him his freedom going to one.
COOK COUNTY CRIMINAL COURTHOUSE, IL — A White supremacist member of the neo-fascist Proud Boys with a long history of physical confrontations with antifa, attempts to infiltrate antifascist groups to gather information and was most recently seen with the founder of the American Guard at a rally in Chicago organized by local police officers, is currently in a Cook County jail cell after he was found guilty of charges stemming from stabbing a fellow attendee of a Dropkick Murphys concert two years ago when he was confronted about his affiliations.
According to the Chicago Sun-Times, Thomas Christensen was convicted of aggravated battery charges for stabbing a man outside the Aug. 8, 2017 concert at Northerly Island's Huntington Bank Pavilion in his face and neck using a 3½-inch blade about 9:30 p.m. Tuesday following an argument during the concert. The victim was also treated for a broken jaw at a nearby hospital.
Christensen was called out by the fellow concertgoer as being a member of the Proud Boys, a violent political gang founded by Vice Magazine founder Gavin McInnes in 2016. He attempted to argue that his actions were in self-defense during the two-day bench trial, but Judge William Hooks brushed those claims aside finding that he badly overreacted to the confrontation. Outside the courtroom, his friend said he was indeed a member of the Proud Boys, described them as a "fraternity" that is "pro-American." "He's actually very laid-back," Christensen's friend said. "He was attacked. He may have overreacted, but that's why he acted the way he did."
That characterization of Christensen might be debated by others, however. According to a 2012 article by Rose City Antifa, "Trigger Tom," as he called himself, was attempting to enter into left-wing circles in Portland at that time, and was reportedly posting that information on the neo-Nazi website Stormfront under the name "whitepunx", where he also promoted the now-defunct neo-Nazi organization Volksfront. By 2017, he was living in the Chicago area and began associating with the Proud Boys and becoming a part of the Men's Rights Activist (MRA) scene, who on Aug. 17 held a conference at the Sheraton O'Hare in Chicago. According to reports, he found himself in a losing confrontation with antifajust four months before the incident at the Dropkick Murphy's show.
On April 1, Christensen joined American Guard founder Brien James and others at rally organized by the Chicago Fraternal Order of Police to protest African American State's Attorney Kim Foxx and her decision to drop charges against "Empire" actor Jussie Smollett who had been accused of faking a hate crime against himself. The rally prompted Rep. Bobby Rush to declare Chicago Police "the sworn enemy of Black people."
Dropkick Murphys themselves is decidedly anti-Nazi, famously ejecting a concertgoer from a New York City show in 2013 when he began giving a Nazi salute while on their stage.
###
Our previous dossier on Tom Christensen, where he outed members of his alt-right hate group by posting a video with all of their names
As always, if you have any tips about Trigger Tom Frederick Christensen, his proud boy crew, his girlfriend Karen, or any other fascists, reach out to us at antifascistchicago@riseup.net.