You'd think that when a man is in his late-30's with a wife and kid to take care of he'd quit running around with burnouts trying to remake Beastie Boys videos and who enjoy attacking people of color and other minorities. That's not Jeff Schwier. He's a member of the Chicago Proud Boys who does exactly that, despite him living in the south suburbs.
How'd we catch him? It was too easy.
After we found the Sabotage video posted by a Proud Boy on YouTube, we downloaded it before the video creator, Proud Boys Chicago Chapter President Tom Christensen, took down the private video. Tom wasn't quick enough because we were able to download a copy and make it widely available on bitchute, as found here. From their video, we were able to pull screenshots, where these smart boys used their real names in the intro credits:
After finding his name through the video, it was simple to discover Jeff Schwier's Facebook page (archive: here) because, well, he used his own name again. From there, it was easy to confirm that this Jeff Schwier's Facebook belonged to a Proud Boy from Chicago because he liked several things on Facebook related to Chicago, as well as openly posted photos of a fascist rally that had occurred in Poland where attendees were openly calling for an Islamic Holocaust.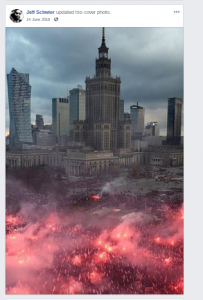 But wait, let's back up the truck. Who are the Proud Boys? For the blessedly uninformed, they've been designated by several watchdog groups as a far-right violent fraternal group (no girls allowed!) that doesn't masturbate. They've been involved in dozens of street brawls and attack unprovoked. They also work closely with the GOP, providing event security and who knows what else.
And finally everyone's favorite watchdog, Wikipedia: https://en.wikipedia.org/wiki/Proud_Boys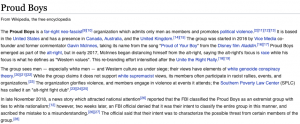 As noted, the Proud Boys hold a "Western Chauvinism" beliefs against blacks, Jews, liberals, Muslims, LGBTQ, especially trans folks, and liberals. For a pretty good read on why multicultural men are drawn to white nationalist extremism, see Arun Gupta's Daily Beast article: Why Young Men of Color are Joining White Supremacist Groups.
Back to Jeff Schwier's Facebook. Jeff posted photos that included a golden wreath, the same kind that is present in Proud Boys t-shirts and logos.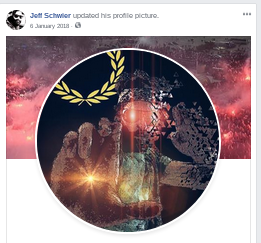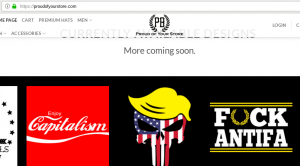 The golden wreath is also present on the Proud Boys polo shirts, including the one that Jeff wore in the video. To dispel any uncertainty as to whether Jeff Schwier named in the video is actually the owner of this Facebook account, we have some photos of Jeff from his Facebook as well. He has the same nose, hair color, and mustache facial hair as that of Jeff in the video.
Since we've triple confirmed that Jeff Schwier is the same person in between the Facebook and the Sabotage video, we got to digging. Using publicly available databases, we were able to unearth a nice trove of information about Jeff and his life.
Jeff is married to Natalie Catherine Schwier, and they live in Glenwood, about 40 minutes south of Chicago. Natalie and Jeff have a child. Natalie sounds like a decent person, as she was a firefighter for the town about a decade ago. You should have gotten paid more – $6.75/hour with no benefits is a rip-off.
They have two cars registered to them:
2013 Ford Fusion, which is a 4 door sedan with a 4 cylinder engine, and an automatic transmission. The VIN is 3FA6P0G71DR376517
Red 2007 Honda CR-V 4WD 5dr EX-L, which is a  5 door (4 door, 1 rear door) with a 4 Cylinder and an automatic transmission. That VIN is JHLRE48787C113529
There are some parameters around the material we can't post here, like phone numbers and street addresses. To view the redacted information about Jeff that cannot be included directly into this article, click http://archive.is/KWsQa
Feel free to email Jeff this article! He's jeffschwier@yahoo.com but be sure to use a fake email so you don't accidentally self-doxx -like the Proud Boys did.
Did you notice in the Sabotage video that Jeff Schwier used the moniker "Carlos Von Ludwig?" That's an odd name, right?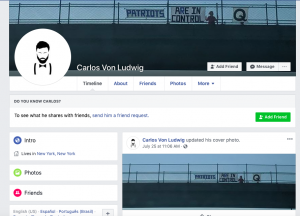 Jeff changed his Facebook picture and his location, but as you can compare the two pages, the styles are similar enough. Carlos Von Ludwig aka Jeff Schwier is an admin for Proud Boys' front group "Boys of Liberty 312 Lounge" – aclosed Facebook group that we infiltrated.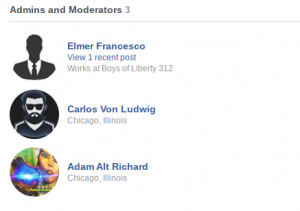 Guess who else is? Adam Richard Glenn! The Chicago Proud Boy who we outed last week. "Elmer Francesco" is likely President Tom.
Ohp, Carlos Von Ludwig aka Jeff Schwier thought he could trick everyone by changing his facebook name to Billy Jean but unfortunately for Jeff, search history is forever and even if you change your name, the platform redirects viewers to the new page. So, hi, Billy Jean!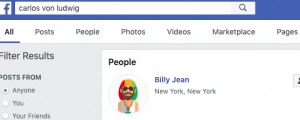 Also, never even mind that the profile pic style is literally the same as both iterations of the Carlos Von Ludwig name, only with different colors.
Anyways, back to the Proud Boys' and Jeff Schwier's big brain power: how were we able to infiltrate this top secret group? Despite their pronouncement that they're all about safety and security, it was quite simple for us to join. We filled out their form seeking to join the Proud Boys, and got an e-mail reply to then join their Facebook group for vetting.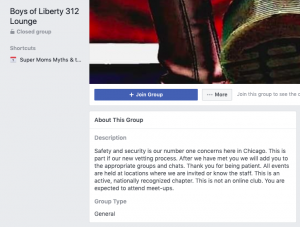 From their online application form: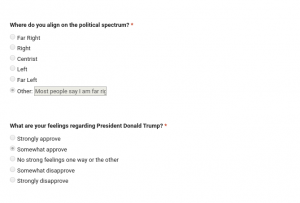 From their follow-up email, which arrived really quickly, as if they're desperate for new members.


And then we were in!
Tom and crew handed us access to view all of the moderator accounts, and all accounts of anyone who was seeking to join the Proud Boys Chicago chapter. Recognize anyone? Not yet? Maybe you will soon.
In the coming weeks, we will be writing a large dossier containing all of these people's identities and we'll be asking Facebook to come get these white nationalist boys. They're drunk and need to go home.
Maybe all the way back home to Glenwood for Jeff. Great opsec – So Proud of Your Boys!
As always, if you have any tips about Jeff Schwier, his crew, or any other fascists, reach out to us at antifascistchicago@riseup.net.