Meet Natasha Veronica Devine aka Natasha Veronica Thompson! Click on thru for more alt-right, far-right, nationalist crap than you can shake a stick at.
Ok, so now that we've verified account identities, let's take a deeper dive into the garbage she posts. Here's Natasha with a Rock Against Communism flag:
Additionally, on her Instagram there is the following Tweet: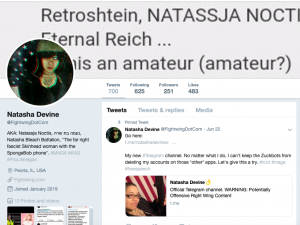 Same profile picture as her Facebook, same content as her Pinterest and Instagram, and same name as her pseudonyms and of course, mentions of the (can we really call it music?) projects we listed above. Natasha's Fightwing account is also listed on Telegram, which for anyone unfamiliar, the platform is like Twitter but worse:
"Many of the far right's loudest voices found themselves gravitating towards what appears to be their next digital home: an encrypted messaging app previously known as a haven for terrorist recruiters. Telegram is a platform that allows users to offer short, public-facing posts akin to a Twitter profile page. Its universe of users is much smaller, however. And its user setup makes it harder for one to grow a following"

-an article that platforms the far-right, so we won't link to it.
She has links to Proud Boys, including where she interviews two Proud Boys. She also takes pride in getting a follow from Roger Stone, who previously asked for security detail from Proud Boys.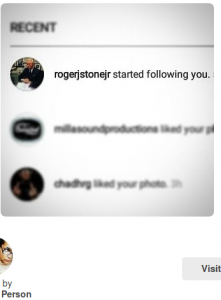 Currently on her twitter, Natasha likes to talk about doing harm to the parents of a young child, even though she's the mother of a similarly-aged child.
And I almost scheduled a visit to play a show in Austin. I'm glad I didn't go there and see this freak show, beat the parents and have to go to jail in Texas. I hear the jails are rough there… #clownworld https://t.co/80JmKTopPM

— Natasha Devine (@FightwingDotCom) June 22, 2019
So what's this Fightwing in her handle all about? It's her attempt at building a neo-Nazi brand. It's pathetic, really. Apparently her music tastes aren't the only thing that's stuck in the 90s. We're not going to link to her site, as we don't believe in platforming it, but bask for a moment with us in the glory of her using her real phone number as a direct contact for her white nationalist site: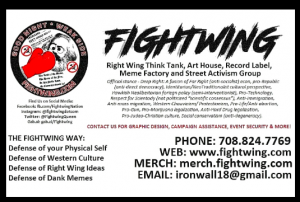 How do we know it's her real phone number though? We compared it to a search on Natasha Veronica Thompson's real name (now Devine) through a publicly available database: