This article was written by comrade @all_socks & edited by Chicago Anti-Fascist Action.
Too big of a reveal for a Twitter thread, this identification all started with a simple question:
Who is this LARPer rocking Proud Boy colors, body armor, and knee pads with a go-pro strapped to his head at the Proud Boys rally in Albuquerque, New Mexico?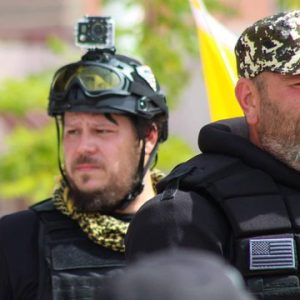 First, it should be noted that of the fourteen Proud Boys who did show up to wave some flags with police protection, four of them have already been outed on the @all_socks Twitter account, with more on the way! Local media The Daily Lobo reports on how the community turned up to stand against fascism to send a message to violent far group that day, most notably that the Proud Boys were outnumbered 10:1.
Who are the Proud Boys? They're a violent far-right extremist group connected to about a dozen brutal attacks across the country, known for organizing with other white supremacist organizations. Check out what the Southern Poverty Law Center has to say about them:


We would like to introduce you to Thomas Randall Sparks currently residing in Santa Fe, New Mexico and previously of Sequim, Washington.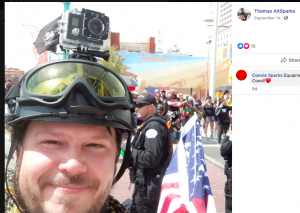 How did we identify him? Thomas Randall Sparks made it easy for us, like so many of these Proud Boys do. First, it was his moniker, "Thomas AltSparks," the "alt" part is a dog-whistle to other Proud Boys and members of other far right groups that he too is a member of the alt-right, as explained by the watchdog group SPLC.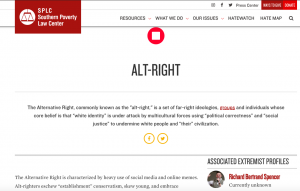 On this Facebook account, there is this picture of him with his partner Jillian.

Digging through the photo's likes, it was pretty easy to find a matching face: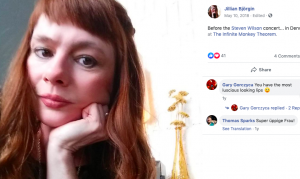 That's Jillian Burgin aka "Jillian Björgen", Thomas Randall Sparks' fiancé who is an Environmental Professional at Los Alamos National Laboratory. It should be noted, that Jillian must know about Thomas' prior history of being a sex offender and his involvement with fascist organizing. In doing so, and "looking past" the really fucked up ways that fascist men and abusers operate, she is complicit in helping to normalize his reactionary and fascist views.
Thomas Sparks
, using his normal Facebook profile, commented on the photo.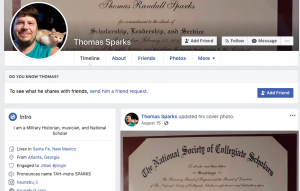 Thomas Randall Sparks is 46 years old. He was born in December of 1972. On his Facebook, he links to his website (archived here) which contains a mixture of his own terrible music, Nazi UFO conspiracy theories, and a plethora of arguments trying to defend Info Wars. The website's name comes from Nazi UFO conspiracy theories, where Haunebu is allegedly a secret Nazi Germany UFO classification.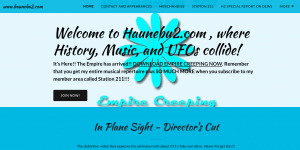 On this website, we do indeed see that it's the same Thomas Randall Sparks that owns both Facebook accounts. His blog contains a plethora of Islamophobic, conspiratorial, and crypto-fascist references. We won't post any of his hateful content, but there is plenty of Islamophobia, overall bigotry, and Nazi apologia.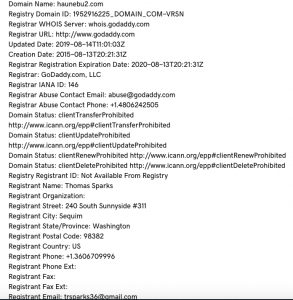 From this, we find that Thomas Randall Sparks is connected to a place in Sequim, WA. From there, we were able to find his old LinkedIn, with the same life story and the same weird Nazi UFO band name, but based in Port Angeles. Port Angeles is 17 miles or a 26 minute drive from Sequim, Washington.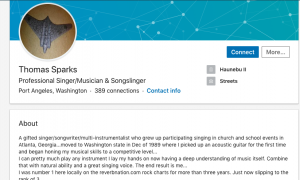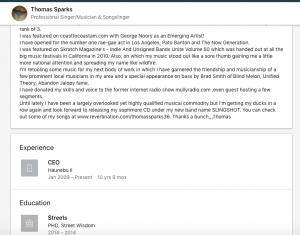 Here is Thomas Randall Sparks' real life connection to the band Haunebu II and Sequim, WA, plus what he looked like when he was younger.
In case he takes down the profile, here is a screenshot: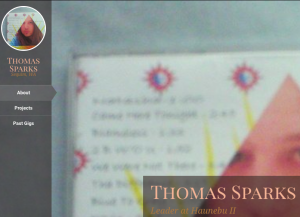 But wait- there is more. For the first time, we feel it's necessary to put up a Content Warning (CW) for what's coming next.
(CW: sexual abuse of a minor)
Searching publicly available criminal databases for Clallam County, Washington, we found court records for Thomas Randall Sparks, dating back to the year 2000. Only one was available online: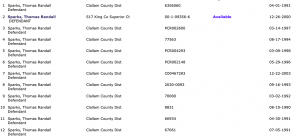 Thomas Randall Sparks's case number is 00-1-09356-6, where he pleads guilty to one count of child molestation and one count of the rape of a child. The page has been archived.

Further research reveals his mugshot from a
public mugshot website
(
archived here
) where a pattern of what appears to be predatory behavior towards children is revealed. His mugshot was from before the previous court date, for a different charge –
communicating with a minor for immoral purposes
: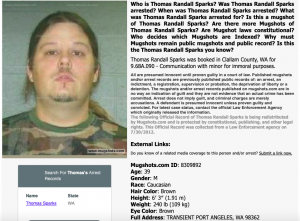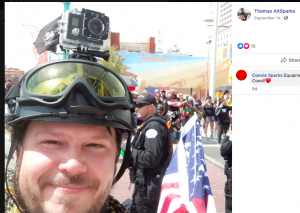 This is who he is. Another man-child trying to push around people he thinks are weaker than him, namely women, children, Muslims, and leftists.
We, as antifascists, understand that the cops and courts won't keep us safe and that only we can keep us safe. It's up to all of us to keep Albuquerque fascist and abuser free. Thomas Randall Sparks plays music. Let's make sure that he never gets to play another show again. Let's make sure that he we know of him to be an abuser and child molester and to bar him from our spaces. Additionally, if he is staying with his girlfriend in Santa Fe, are they near any schools?
As previously mentioned, we can't post personal contact info directly on this platform but we'll direct you to
this link
for redacted information.
As always, if you have any tips about any fascists in Chicago or elsewhere, please reach out to antifascistchicago@riseup.net. We'll pass any info on Albuquerque fascists to @all_socks!