Note: this article has been redacted to comply with publishing requirements of this platform. They don't allow posting of private information like addresses, phone numbers, emails, etc. But don't worry, here's a link at the bottom of the full article 😉
Dustin Baker, who goes by @illgoy on Twitter, is a Neo-Nazi with ties to both Identity Evropa and Patriot Front.
The connection between the deadly Unite the Right rally in Charlottesville in 2017 and Identity Evropa (now re-branded as American Identity Movement) cannot be overstated. According to the Southern Poverty Law Center, the white supremacist Identity Evropa group was involved in the planning of the white supremacist rally and the American Identity Movement is:
"at the forefront of the racist 'alt-rights' effort to recruit white, college-aged men and transform them into the fashionable new face of white nationalism."
Additionally, the Southern Poverty Law Center has this to say about Patriot Front:
"Patriot Front (PF) is a white nationalist hate group that formed in the aftermath of the deadly "Unite the Right" rally in Charlottesville, Virginia, of August 12, 2017. The organization broke off from Vanguard America (VA), a neo-Nazi group that participated in the chaotic demonstration. PF's founder, Thomas Rousseau, led VA members during "Unite the Right," including James Alex Fields, Jr., the young man accused of murdering anti-racist protester Heather Heyer after fatally driving his vehicle into a crowd of protesters"
We will scroll through some of Dustin's social media posts, and then walk through how we discovered it was him.  First, we see that Dustin posting a tweet tagging Nathan Damigo, founder of the white supremacist group Identity Evropa in his two seperate tweets with Identity Evropa's infamous slogan: "You will not replace us"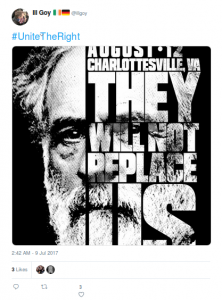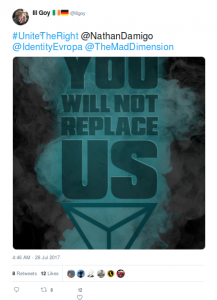 In fact, he seems to have created the posters, according to suggestions by this tweet.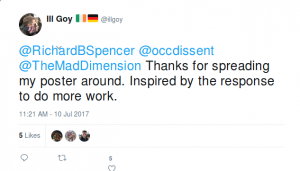 His connections to Identity Evropa and the American Identity Movement, along with Richard Spencer, don't stop there. He allows follows, as well is followed by several members and accounts operated by Identity Evropa, including @Chidentitarian, which is a Twitter account that is in part operated by outed Indiana Neo-Nazi American Identity Movement member Peter Earl Diezel.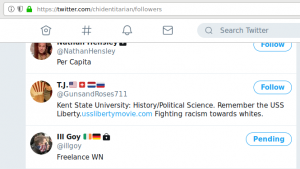 Dustin's Twitter account also has links to James Marter for Congress, as Marter followed Dustin on Twitter up until a couple of days ago when it was revealed that Dustin was a neo-Nazi and James was confronted on Twitter directly.
Do note that there is no ambiguity about Dustin's Twitter account. Not only does he use a Hebrew word that is often used by white supremacists in an antisemitic fashion, but his description also states: "Freelance WN" which stands for Freelance White Nationalist. Additionally, since he was following Dustin's private account (as one of Marter's first follows nonetheless!), it is doubtful that he was unaware of the content posted to Dustin's Twitter account, that has ties to Unite the Right, Neo-Nazi organizing, etc.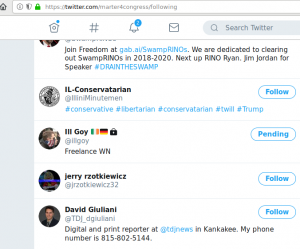 Not only does Dustin have ties to Identity Evropa, but he also has ties to Patriot Front. In fact, here is one of his tweets where he thanks Richard Spencer and Greg Conte for a very memorable event. This was, as noted on the ticket, from Dustin attending Richard Spencer's talk at Michigan State University in March of 2018, where Neo-Nazis from all over convened to support Spencer- including such groups as Identity Evropa, Patriot Front, and the now defunct Traditionalist Workers Party.
The speaking event at MSU is well regarded as the turning point of the alt-right's disintegration as a movement. After sustained leaks of internal communications, Patriot Front has become a small and ineffective force.
After MSU is where Spencer tearfully notes that "Antifa is winning" and decides not to do any more public speeches, this was just one week before the Traditionalist Workers Party collapsed, quoting Unicorn Riot which states:
"TWP's years of work seem to have all come crashing down in early March 2018, when Matt Heimbach's wife Brooke, along with Matthew Parrott (Brooke's father-in-law) discovered that her husband was having an affair with Jessica Parrott, Matt Parrott's third and current wife. A confrontation escalated into an incident in which Heimbach choked Matt Parrott into unconsciousness before he fled the scene and called the police, who then arrested Matt Heimbach in his home for allegedly striking his wife Brooke in the face. Shortly after the incident Parrott announced that he was quitting TWP and deleting all the group's membership information and digital infrastructure, taking its website offline within hours"

In March of 2019, after more Discord Leaks, this time Identity Evropa was forced to re-brand as the American Identity Movement after over 80 of its members were identified by antifascist researchers after their private discord servers were leaked by Unicorn Riot.
Christopher Mathias of Huffington Post documented the violence taking place at the MSU event.
At that same event, Jacalyn Grace Thomas, another former member of the Traditionalist Workers Party and member of Identity Evropa/American Identity Movement was identified recently by Panic! in the Discord. Dustin even makes appearances in Christopher's tweet. Here are some higher definition shots of him both masked and unmasked at the MSU event. There are additional videos as well, where you can see him in the American Flag bandana.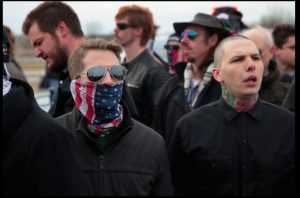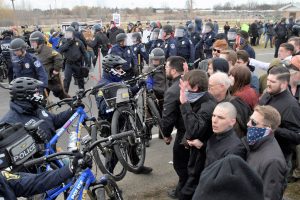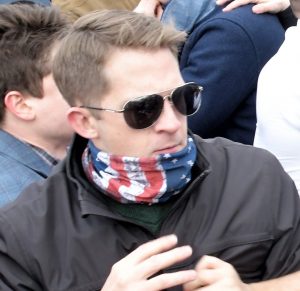 So that's the face of @illgoy who bragged about attending. Now, let's walk through how we connect him to Dustin. Dustin posts on his account @illgoy, but if we look at replies to his account before he changed his user name, we can see replies tied to his current account but direct to another user name: "D_TOWN_RUMBLER"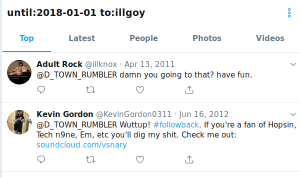 Now, we went ahead and searched that user name in Google. We had a hit for a name: Dustin Baker. The location was ambiguous though, as it seems to have been everywhere, but it gave us a lead at the very least.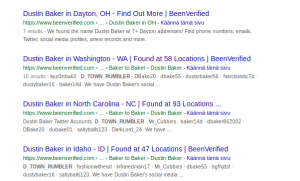 We knew Dustin Baker may be in Illinois somewhere, as his Twitter bio described his location as Illinois, and his user name "ill", suggests Illinois origins, as well as his attendance at MSU in Michigan, which is a nearby state. So we went hunting for a Dustin Baker in Illinois. We found one on Facebook, with a location of Dixon, IL. Well that's interesting, D_TOWN sure might be Dixon!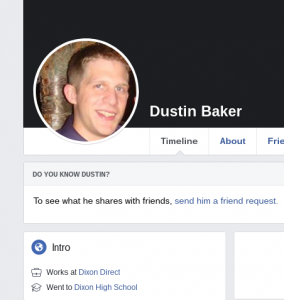 But that's not enough info. We went through his Facebook a little more, and hit the jackpot. Here he is talking about his own Twitter account. "D_TOWN_RUMBLER", which he changed the user name to later as "illgoy", is now tied to his face, location and name. Bingo.


To triple check, we checked some more of Dustin's Twitter. As @illgoy,  he mentioned that he recently had a son.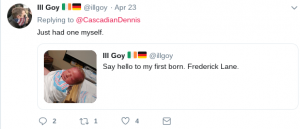 We searched through Dustin's father's photos, and what do you know- here is Dustin with a newborn baby, the same newborn baby to be in fact. You can ask Dustin's dad Randall how he feels about having raised a white supremacist, if you'd like.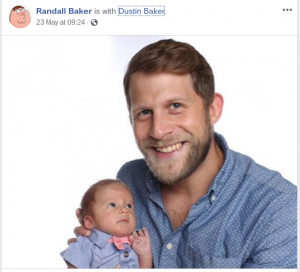 On his Facebook, it lists his place of employment as Dixon Direct:
Phone 815.284.2211
email info

@dixondirect.

com
You can respectfully ask them why they are employing a white supremacist rioter. But do take standard precautions and use *67 or a burner phone and a sock email or account if contacting them.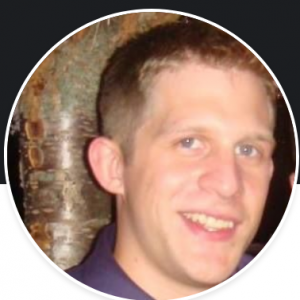 Finally, redacted information about Dustin Baker can be found here:
http://archive.ph/QDlgt
If you have any additional details about Dustin or other fascists, please send us an email at antifascistchicago [@] riseup [dot] net