Pardon our manners. We neglected to introduce ourselves and explain what we're doing here.
It has come to our attention that a tiny splinter group called "AntiAntiFa Chicago" has come in to existence. Being anti-antifascist, by the consequence of double negatives in the English language, means you are fascist. In addition to poor grammar and promoting fascism, this pack of glue-eaters made the mistake of targeting ordinary people who they believe are responsible for militant anti-fascism in Chicago.
We are a group of dedicated antifascist activists who have been gathering intel, restructuring, and generally improving our security culture in preparation for the summer ahead.

— Chicago Antifa (@chicagoafa) May 25, 2019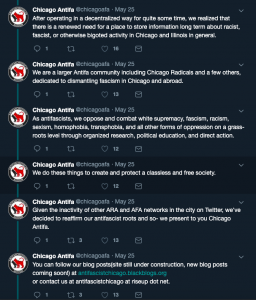 As it stands from their actions, it looks like the anti-antifa chuds found an old group photo from a protest in 2014, has attempted to find the names and outdated personal data of those people, and stick them on a blogspot in an attempt at intimidation.
The pics make us smile though, it's like a time capsule from happier times.
On one hand, it looks like folks *actually* doing the stickering, flyering, social media-ing, blogging, protesting, and outing of local fascist trash have such solid Opsec that they're airtight and unable to be found. On the other hand, if a comrade, even a far removed one, is named as doing the heroic work of mopping up Nazi garbage then they ought to at least be the ones doing it. There are associated risks with fascists knowing names, which is why we're doing our part from across the country to step up and shut these fart-sniffers down.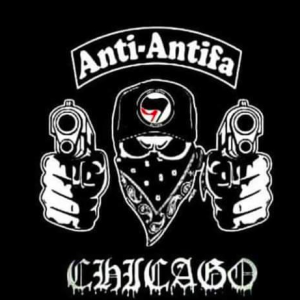 Do follow this blog, our twitter at @chicagoAFA and contact us at antifascistchicago at riseup dot net with any information.
With rage and love, chicagoAFA.